VIA Rail F40PH Locos # 6437 and 6447
These F40PH locomotives were a team hauling Train #2, the transcontinental passenger service from Vancouver to Toronto in 1997. The train derailed due to a overheated and failed traction motor bearing on Loco #6447, near Biggar, Saskatchewan. The train wreck resulted in one death and numerous injuries. Via Loco #6447 and some of the passenger cars, were scrapped.
The models are (repainted) Life-Like with Micro-Trains couplers, Digitrax DN-121 decoders.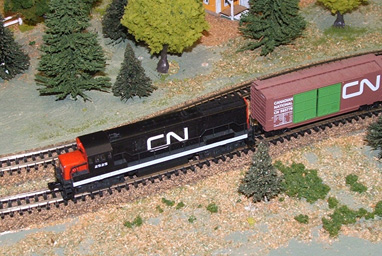 CN GE U25B
This Kato locomotive is repainted from a New York Central Railway to the CN (Canadian National). As it was an already black loco, only the red paint and decals were needed; plus a little black paint to cover the NYC. The decoder in this is a Train Control Systems M1.